The Origins of Nomon
Hi, we're Erin and Trey! We're a Chicago based couple who both started a company and relationship off of a Valentine's Day "I have a crush on you" text. The dried flower arrangement with the "I'll pick you up at 7" tag served as the core inspiration for Nomon.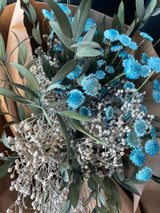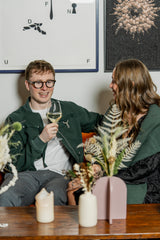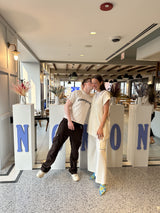 Dry Flowers:
Are they real flowers?
Absolutely! Our blooms are indeed real. We import our flowers directly from the Netherlands. They have been carefully dried  through a natural process.
Additionally, certain flowers have been dyed to maintain / alter their stunning hues.
How long do dried flowers last?
From months to moments, our dried blooms hold their allure.
Although dried flowers maintain their beauty for years, consider the seasonal shuffle. By updating your arrangement with the seasons, you'll ensure a perpetually fresh and vibrant display.
Business Inquiries:
Do you collaborate with other brands and companies?
Absolutely! We're all about brand and company partnerships. Our internal design team is geared up to partner with brands and companies spanning fashion, jewelry, cannabis, furniture, fragrance, and more.
Ready to explore? Send us a message!
Do you supply dry flower arrangements for offices spaces, hotels, resedential buildings, and other businesses? 
Do you teach flower arranging classes?
Yes! For more information check out our events page.
Want to host your own class? Reach out to us at events@nomon.flowers
Orders:
Can I include a gift note?
Absolutely! In the cart section of our site, you'll spot the 'Add order note' area. Pop in your special message there. If we need more details, we'll connect via email.
Rest assured, all gifted orders come with your unique note beautifully placed on our custom Nomon gift notes.